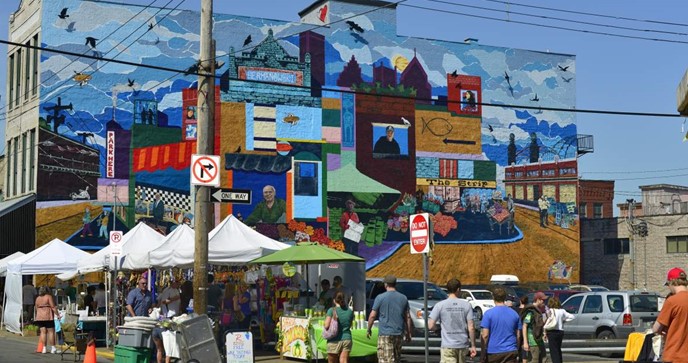 What's up! I just got back from the most amazing weekend ever exploring Pittsburgh. I'd never been before, but it totally blew me away. Let me tell you all about it!
First Impressions
We rolled into the city on a Friday evening. My first thought was "woah those are a lot of bridges!" No joke, there are like 446 bridges in Pittsburgh – more than any other city in the world. As we drove over the river on one of the many yellow bridges, I just stared open-mouthed at the skyline. Pittsburgh is settled between three rivers – the Allegheny, Monongahela, and Ohio Rivers – so there are scenic views everywhere you look.
Once we checked into our vacation apartment in Pittsburgh, we couldn't wait to hit the streets. It was awesome wandering around seeing the mix of old brick buildings, modern skyscrapers, and the famous Steelers black and gold. You could tell Pittsburgh was once an industrial powerhouse back in the day with all the steel factories and manufacturing. Now it's transitioned into a happening hipster/techie city with a vibrant art, foodie, and sports scene. I was so ready to explore it all!
The 'Burgh's Hot Spots
On our first day, we made our way over the Andy Warhol Bridge (yeah, the famous pop artist is from Pittsburgh!) to the Mattress Factory. It's this super cool contemporary art museum filled with room-sized installations. As soon as we stepped inside, I felt like a little kid again running through the wild exhibits. My favorite was Greer Lankton's «It's All About ME, Not You,» a crazy room packed floor-to-ceiling with colorful ribbons you could push through and get lost in. I probably spent an hour exploring that rainbow maze and taking goofy photos. There was also an exhibit by Yayoi Kusama with an infinity mirror room that blew my mind when I stepped inside. Freaky but fun!
Next up was the Strip District, which is an open air market crammed with food vendors, funky shops, and food trucks. Basically foodie heaven! We munched our way through the crowds, taste testing pierogies, pastrami sandwiches, cream puffs, and this amazing thing called a Pittsburgh salad made with fries, steak, cheeses, tomatoes, and ranch dressing. My stomach was hurting after eating all those rich foods, but it was soooo worth it!
We waddled our stuffed selves over to the Senator John Heinz History Center next. This huge museum has five floors of exhibits covering everything from the French and Indian War to Pittsburgh's part in the Industrial Revolution and modern innovation. Did you know French fur traders founded the city back in the 1750s at the convergence of the three rivers? I learned so much drooling over all the vintage motorcycles and cars. The Sports Museum was awesome too being able to see Steelers memorabilia up close.
Party Time in the 'Burgh
After all that learning and pigging out, it was time to experience Pittsburgh's nightlife! That night we hit up South Side, which is packed with bars, clubs and live music pouring onto the streets. Carson Street was super crowded with drunk college kids and bachelorette parties. We bar-hopped down the street, dancing to some awesome local bands at Diesel Club Lounge and Club Zoo. I tried a bunch of crazy shotskis too like the Gummy Bear and Liquid Marijuana. And we may have had one too many Primanti Bros sandwiches smothered in fries and coleslaw. Just don't tell my mom!
The next morning, we worked off our nasty hangovers by renting bikes and cycling along the Great Allegheny Passage to Point State Park. This huge park marks where the city's three rivers meet. It's got beautiful walking trails, gardens, historical markers about Fort Pitt, and a 150 foot tall fountain spraying right into the river. I loved laying in the grass people watching and seeing boats pass by while I recovered from the night before. Definitely a gorgeous spot on a sunny day.
Falling for Fallingwater
On our last day, we took a day trip about an hour outside the city to visit Fallingwater. This mind blowing house was built over a waterfall in the middle of the forest by famous architect Frank Lloyd Wright in the 1930s. I'd seen pictures before but it's seriously one of the coolest houses I've ever seen in real life! The fact that it was built back in the 1930s and literally hangs over a raging waterfall makes it even more impressive.
We took the in-depth house tour, and I couldn't stop staring out the huge window walls at the waterfall below. It was crazy to think people actually lived there! I could totally imagine throwing raging parties on the balconies. The interior was really sleek too with simple concrete floors and neat brickwork. I wish I could live in a nature oasis house like that someday! Our tour guide said Fallingwater inspires architects even today, which is easy to see why.
Heading Home After an Epic Weekend
As we headed back to Pittsburgh that evening for our last night before flying home, I was super bummed our trip was ending. From the eclectic museums and raging nightlife to delectable food and scenic nature, Pittsburgh completely charmed me. It's such an interesting blend of history, culture, and modern experiences. And the people were so friendly!
On our drive to the airport, I made a Pittsburgh bucket list in my phone of everything I still wanted to do – catch a Pirates game at PNC Park, stroll around Phipps Conservatory botanical gardens, try more pierogies of course, and ride the Duquesne Incline for more amazing views. I can't wait to go back with my friends and experience more of the 'Burgh's awesomeness.
So that's the down low on my fab weekend in Pittsburgh. Have any of you guys been? Hit me up, I need more tips on what to see and do next time! Like any underrated spots only locals know about or the best places for nightlife. And let me know if you wanna join for my next trip. Could be an epic girls weekend! Peaaace out!